Early testing shows that #iPhone app screens more accurately for skin #cancer than doctor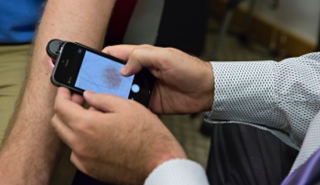 A $500 #dermoscope - a combined magnifying lens and light - will need to be attached to the back of the iPhone in order to do the reading.

The app is currently being evaluated for further testing at the #University of #Texas MD Anderson Cancer Center. It's hoped that the same approach might allow screening for other conditions.

#Ginger Induces #Leukemia Cell Suicide


Here we have yet another study on ginger's mighty effects against a relentless #cancer .

The findings by #Barbara_Starfield , MD, of #Johns_Hopkins School of Public Health, 12,000 #deaths from #unnecessary_surgeries ; 7,000 deaths from medication errors in hospitals; 20,000 deaths from other errors in hospitals; 80,000 deaths from infections acquired in hospitals; 106,000 deaths from FDA-approved correctly prescribed medicines. The total estimated number of deaths caused by medical treatment in the US every year is 225,000. Thus, the US medical system is the third #leading_cause_of_death , after #heart_disease and #cancer .