What Are Tea Tannins? Benefits and Downsides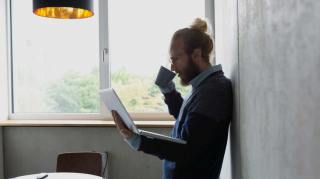 #Tea - #Tannins are a type of chemical compound that belongs to a larger group of compounds called #polyphenols . Their molecules are typically much larger than those found in other types of polyphenols, and they possess a unique ability to easily combine with other molecules, such as proteins and minerals However, early research suggests that certain tea #tannins possess characteristics similar to those of other #polyphenols , helping prevent disease by providing #antioxidant and #antimicrobial benefits One of the main tannins found in green tea is known as epigallocatechin gallate (EGCG). EGCG belongs to a group of compounds known as catechins. It's thought to be one of the reasons behind the many health benefits associated with green tea. Animal and test-tube studies suggest that EGCG may play a role in reducing inflammation and protecting against cellular damage and certain chronic illnesses, such as heart disease and #cancer Tea also offers a plentiful supply of two groups of tannins called theaflavins and thearubigins. Tea also contains high levels of a tannin called ellagitannin . Early-stage research suggests ellagitannin may promote the growth and activity of beneficial gut bacteria, but more studies in this area are needed. Ellagitannin is also in the spotlight for its potential effect on cancer treatment and prevention. Like other types of dietary polyphenols, ellagitannin exhibits strong antioxidant and anti-inflammatory effects. Test-tube studies have revealed that it may also play a role in reducing the growth and spread of cancerous cells.

#Melanoma #Tumor 'Dissolves' After 1 Dose of New #Drug Combo


One of the drugs in the combination was ipilimumab (sold under the brand name #Yervoy ), which works by removing an inhibitory mechanism that can stop certain immune cells from killing #cancer cells. In the study, researchers combined #ipilimumab with another drug, called #nivolumab (brand name #Opdivo ), which can prevent #immune cells called T cells from dying

#Transmissible #dog #cancer genome sheds light on cancer #evolution


The #genome of the world's oldest continuously surviving cancer - an 11,000-year-old genital cancer in dogs that can be transmitted during mating - is helping scientists understand underlying factors that drive cancer evolution in general.

2,500 #GroundZero workers have #cancer


wait...our government told the first responders that the air was safe to breath. They never lie to us so where did all this cancer come from ?

Now #Merck the company caught red handed doctoring #MMR vaccine data claims promising results in their #CancerVaccine trials.