Emanuele Magini pays homage to Anish Kapoor with non-chair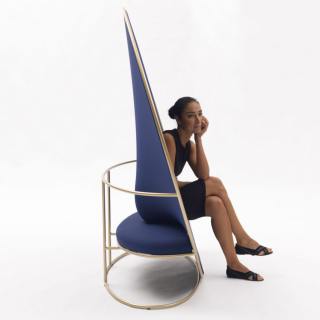 #Magini was inspired to create the seat after watching a lecture by British sculptor #AnishKapoor on his concept of "non-object", which he describes as an object which is not an object. Magini wanted his creation to emulate this concept by creating a chair that does not immediately appear as a chair. To achieve this, a circular sheet of blue elasticated fabric was stretched against a metal frame to create the illusion of there not being a chair. Behind it, a semi-circular cushioned seat in the same shade of blue is connected to the fabric facade. It is only when an individual attempts to sit down that the fabric stretches to reveal the chair.

#AnishKapoor , known for his use of red wax, diversity of natural stone materials and highly polished or shiny surfaces, like plastic or steel.

Luminous Field Installation by #Luftwerk was an interactive video and sound installation that illuminated #AnishKapoor 's Cloud Gate back in February of 2012.