#Apple Releases #iBeacon Specification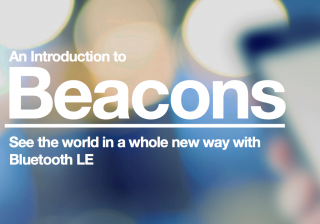 iBeacons are physical #Bluetooth low-energy transmitters that use Apple's iBeacon API to provide micro-location information to nearby apps and devices, with an accuracy range of a few feet. iBeacons are compatible with Apple's #iPhones and #iPads , as well as other devices that use #BLE , and have thus far been used primarily by retailers and other venues to provide location-specific information.

In order to use the iBeacon name, manufacturers now need to have their devices approved by Apple as part of the #MFi program, similar to accessories and hardware for #iOS devices. Using the term iBeacon requires manufacturers to meet specific criteria, which are only available after a non-disclosure agreement has been signed.

#India_Pale_Ale or #IPA s have a long history in the USA with many breweries producing a version of the style. American IPAs are brewed with a single hop variety or a blend of varieties including Cascade, Centennial, Citra, Columbus, Chinook, Simcoe, Amarillo, Tomahawk, Warrior, and Nugget. This is in contrast to the Fuggles, Golding and Bullion hops of British styles. East Coast IPAs are distinguished from West Coast IPAs by a stronger malt presence which balances the intensity of the hops whereas the latter foreground the hops more, possibly because of the proximity of West Coast breweries to hop fields in the Pacific Northwest. East Coast breweries rely more on spicier European hops and specialty malts than those on the West Coast

Simply one of the best shops in town. #GreenFlash_Brewing has been huge on the scene in San Diego for years and have a strong reputation across the country. Big #IPA beers are the reg and they do them well. Large open warehouse scene with all their beautiful beer in view while you pick from their often-revolving board of deliciousness.