Possibly the world's most impressive paper plane - CNN.com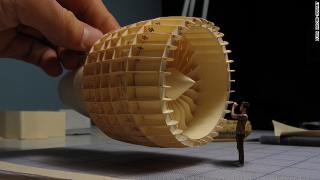 #LucaIaconi-Stewart created a 1:60 scale, painstakingly detailed replica, of an Air India Boeing 777 made entirely out of manila folders -- and a little glue -- and currently parked in a mini-hanger somewhere whose location Iaconi-Stewart understandably declines to disclose.

10,000 hours and around 400 #manila folders.

The #Hyksos


were a marauding, barbaric, warring, Semitic tribe who invaded Egypt in the 15th dynasty. They brought with them new tools of warfare such as bronze and the horse and chariot. The first pharaoh of the 18th dynasty, #Ahmose I, finally expelled the Hyksos from their last holdout at Sharuhen in #Gaza by the 16th year of his reign. 1st century AD historian #JosephusFlavius postulated the Hyksos were the #Israelites taking into account 2 Exodus like events chronicled by Egyptiaon historian #Manetho .

#Manly_P_Hall Manly Palmer Hall (March 18, 1901 – August 29, 1990) was a Canadian-born author and mystic. He is perhaps most famous for his 1928 work The Secret Teachings of All Ages.