Imogen Heap Announces 2019 North American Tour + Ticket Info | Music News | Consequence of


#ImogenHeap of #FrauFrau goes on tour in 2019 with workshops and discussions of #Mycelia , the new business platform for #musicians .

#Roli 's #Seaboard #keyboard is a new beginning in #music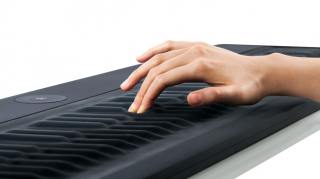 Play the #piano with some of the tactile feedback you'd expect from playing the #guitar .


#E_S_Posthumus E.S. Posthumus was an independent #music_group that produced film trailer style music. Their style is a form of 21st-century classical music that intertwines popular style drum rhythms with orchestral and electronic sounds. Their music is inspired by the Pythagorean philosophy which states that "music is the harmonization of opposites; the conciliation of warring elements". The E.S. is an acronym for "Experimental Sounds" while Posthumus is a Dog Latin word that is meant to represent "all things past"

#Musictheory is the study of the #structure of constructed music. Music theorists look for patterns and structures in composers' works across or within genres, styles, or historical periods. Music theory distills and analyzes the fundamental parameters or elements of music—rhythm, harmony (harmonic function), melody, structure, form, and texture. Broadly, music theory may include any statement, belief, or conception of or about music. Music may also be understood from the viewpoint of acoustics, human physiology, and psychology.





#Shure #SE425 Sound Isolating #Earphones Metallic silver. These seem to be amazing employing a two driver with crossover design. The cord is detachable which is great because mine always seem to short out within weeks. #MusicianGear



#Musictheory when incorporating sharps Father Charles Goes Down And Ends Battle.

#Musictheory An interval measures the distance between two notes. 2 notes occupying the same line or space are a first (prime) interval. #Accidentals are ignored with generic intervals. only staff position matters.