Sadly I cannot. The banking cartel is too powerful in the world and the people behind it own most of the valuable assets, commodities. means of production, and essentially the real wealth in the world. They regularly take out countries that don't abide by their system such as Libya and Iraq. There will be a digital currency in our future, but it won't be #bitcoin .

How Overstock deals with bitcoin's wild price swings


For companies that take bitcoin as a form of payment, however, the volatility poses another challenge: dealing with accepting a currency that may change in value significantly on a daily basis. Businesses are used to dealing with fluctuating currencies, but nothing like the 385% increases that bitcoin has seen over the past few months. In 2014 Overstock (OSTK) was the first major retailer to accept #bitcoin , becoming the first billion-dollar business to take the leap. The company's strategy was to pocket 10% of a sale in bitcoin and convert the rest into U.S. dollars. To facilitate transactions, Overstock used Coinbase's exchange to convert digital currency in real-time. But during the surge this year, Overstock CEO Patrick Byrne changed the online retailer's policy in two major ways. #Overstock 's new policy: keep half

#Bitcoin #bug causes massive #sell_off


the exchange says a bug in the bitcoin software makes it possible for someone to use the network to alter transaction details to make it seem like a sending of coins to a wallet did not occur when in fact it did occur. Since the transaction appears as if it has not proceeded correctly, the bitcoins may be resent. Appears to me to be a #FatalFlaw

"The COVER of the Economist Magazine on Jan 1988 predicts World Currency by 2018! Plot or


Is this #EconomistMagazine cover from 1988 showing us what will be happening in #2018 ? #SatoshiNakamoto is the supposed founder of #Bitcoin yet he seems to not exist as a real person. In #Japanese #Satoshi means (born from ashes) and #Nakamoto means from the center. It sure seems to be what the magazine is depicting , but #Bitcoin has been sold to the public as being distributed peer to peer with no central planning . The 2 notions are #antithetical to each other so is #Bitcoin just a trial run to test #Blockchains technology before they move us to a centralized digital currency? It sure seems like it.

More San Diego Businesses Accepting Bitcoin


Last week, Overstock.com became the first large online retailer to take #Bitcoin as a method of payment. The company's CEO announced via #Twitter that on the first day of taking Bitcoin, it received 840 orders and made $130,000 in Bitcoin sales.

Bad day for the big #Bitcoin exchange: Mt. Gox lost some 750,000 customer bitcoins.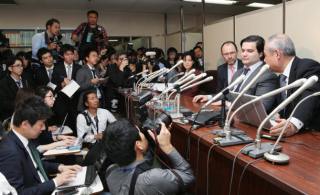 The massive loss of bitcoins had been rumored all week. Due to the currency's encryption technology, it might be difficult, if not impossible, for the stolen bitcoins to be restored to their owners' accounts, leaving people across the globe with significant losses.